Powder metallurgy (sintering and sintered metals)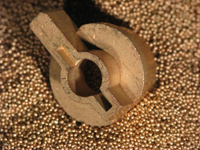 FACHMETALL
has particular expertise in powder metallurgy. Applications of sintering technology are as manifold as in hardly any processing technology.
The use of metallic materials is universal, practically all metals and their alloys ranging from aluminium to tungsten are processed by powder metallurgy.
Just as diverse as the options of material selection are the products that can be manufactured by sintering technology. The spectrum of products ranges from primary material through semifinished products to net shape precision components.
FACHMETALL
has extensive know-how about many manufacturing processes of powder metallurgy and practical experience of three decades in this field. We offer professional expertise for your benefit.
testing and assessment of powder metallurgy products
review of processes and equipment set-up
materials and process development
supplier validation and training courses
We accompany you through the manifold of options and together with you find the best solution.
---
Application-specific advice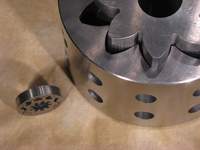 FACHMETALL makes its comprehensive expertise of metals, their properties and related chances for applications available for you.
We propose to you feasible practical solutions of your problem.
This includes the consideration of the entire processing chain from raw material to the final product.
The proper selection of the primary material and the processing steps of a product are often crucial for a cost-efficient manufacturing route. Take advantage of our experience for your products, improve your quality and efficiency in a single step.